Say Hello to Hef
In which we meet the original
Sophistocrat
---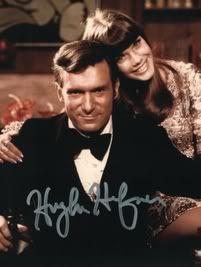 Sophistication.
It's a highly loaded and much abused term, synonymous in some minds with riches and snobbery, and in other minds with artificiality and Mandarin complexity, or simple intellectual pedantry. More subtle thinkers understand sophistication's paradox: the apprehension of complex expressions and their intuitive reduction to primary principles. Sophistication requires considerable education and knowledge, combined with a fundamental understanding of what drives desire. It is a thing difficult to describe but immediately recognized when encountered. It is a quiet, adult, mature, detached quality of mind that, for many generations, ambitious people aspired to. The sophisticate looks on the world's caprices with a keen understanding—and a confident, bemused smile.
Early issues of
Playboy
magazine were bastions of sophistication in a media landscape just beginning to grow toward its current baseness. The editors of Hugh Hefner's
Playboy
understood the complex interplay of media, symbol and desire.
Playboy
was more than a stag rag. It was a primer for the young, male, would-be urban sophisticate. Though written from an unabashedly male perspective, the magazine became, for a time, an engine of social change that effected mores across the sexes and across society. Besides the playmates,
Playboy
boasted an a-list of contributing writers that wittily and pithily pushed the envelope of conventional journalism.
The other day my friend Vebs phoned and asked if I wanted to go with him and his wife to meet Hugh Hefner at Tower Records on Sunset Strip, where he would be signing autographs. I said "sure." When we arrived, Vebs handed me a box set of DVDs called "Playboy After Dark," a late night, syndicated TV show that I had never heard of.
I popped the first disc in the minute I got home. The first show was dated October 1959. Here was a variety talk show like no other. The Hef, immaculate in fitted evening clothes and wry smile, invited the viewer into the penthouse, where the party was. He introduced us to guests comedian
Lenny Bruce
, songwriter and composer,
Cy Coleman
(
Witchcraft, The Best is Yet to Come
), Ella Fitzgerald, Nat King Cole, and of course a bevy of elegantly dressed playmates. Seemingly unscripted, the Hef made the rounds like the confident host that he was, smoking his pipe and asking gently probing questions of his celebrity guests. I found the combination of witty, world-savvy erudition against the underlying backdrop of sexual promise irresistible.
---
Playboy After Dark
, hosted by Hugh Hefner
Playboy Enterprises
$29.95
Rating: ♠ ♠ ♠ ♠
Meeting the Hef in Person
Priceless