Mountain Escape
In which M2 heads for the hills to escape the heat and learns some fun facts
---
It's been hot. Very, very hot. And humid. It was 120 F in Woodland Hills, about 15 miles east of my Studio City home last Friday. To beat the heat and get some exercise—you just can't exercise when it's that hot—I motored up to one of my favorite places in Southern Cali: Mount Baldy. At 6000-odd feet, or about 2000 meters, above sea level, Mt. Baldy Village is 15 to 20 degrees cooler than the San Gabriel Valley below.
The Indians that lived here knew this and what is now the Mt. Baldy Village was once the summer home of the Tongva people, who lived in the valleys most of the year but retreated to the highlands in late Summer and early Autumn.
Behind the Mt. Baldy ranger station is an exhibit of early regional dwellings, including an example of a Tongva summer home.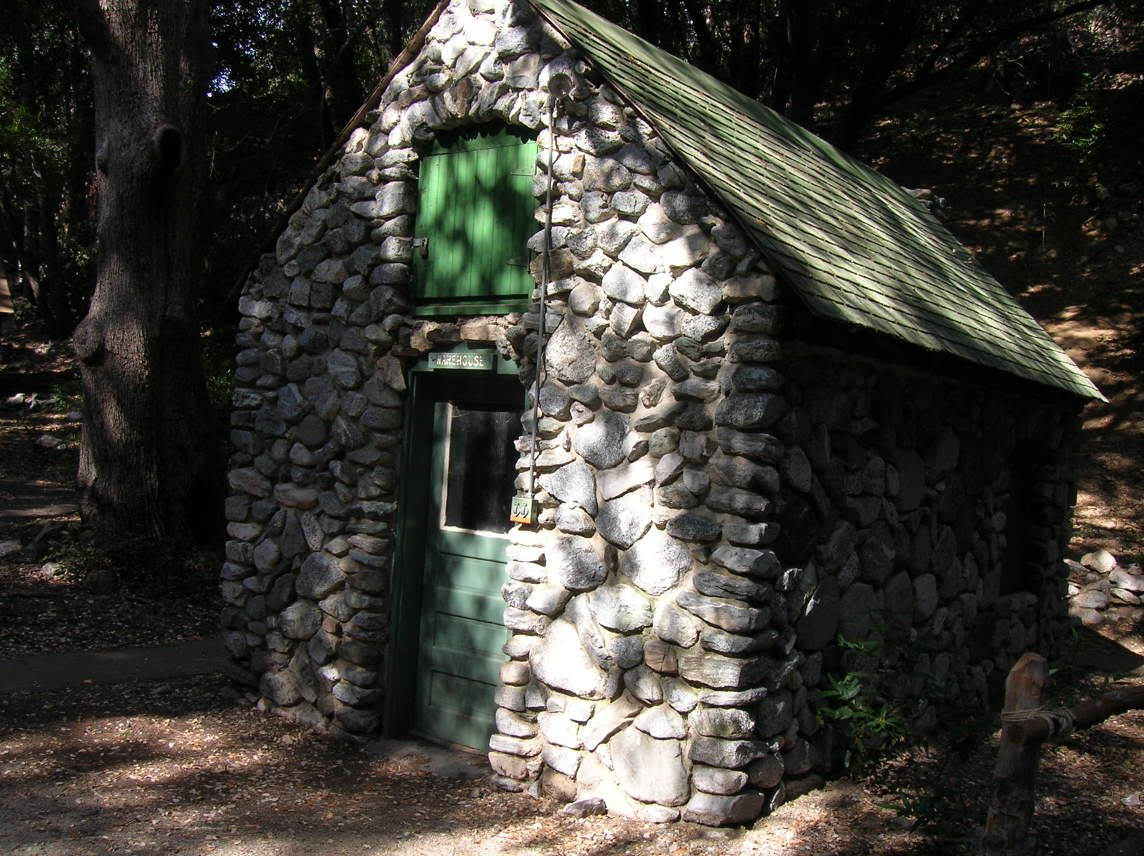 Gold was discovered in the San Gabriels in 1842, six years before it was discovered at Sutter's Mill. For several years the area was an epicenter for mining operations. The miners lived first in tents and later in stone cabins, much of the desert alpine wood being unsuitable building material for large dwellings.
The miners used what was called a Long Tom to separate gold specs and nuggets from pebbles and soil.
After buying this year's
Adventure Pass
at the ranger station I went up to Ice House Canyon to start my hike. The Canyon is the coolest, shadiest place I know of in the San Gabriels. A babbling stream rushes down in consecutive waterfalls to join up with San the Antonio River at the mouth of the canyon. The water is clear and cold—the perfect companion to a hiker on a long trek.
I hiked until black summer thunderheads began to loom over the peaks above and thunder began to echo down the mountainside.
Afterward, I tooled up to Wrightwood for a look round and a sandwich. On the way I stopped to snap a pic in the Mormon Hills along the San Andreas fault zone. The electric storm fired up on the way, offering a spectacular display of white lightning ripping across the blue-gray sky.
---
Ice House Canyon Hike
34°17′20″N, 117°38′45″W
Rating: ♠ ♠ ♠ ♠