Bang, bang
In which M2 and Vebs hit Burbank's shooting range and get some nice nosh afterward
---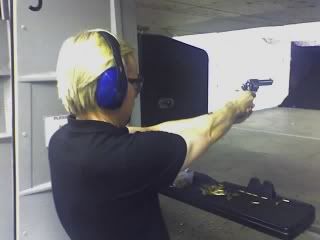 Yesterday, Sunday, friend Veblen and I went out to the
Firing Line
indoor pistol range in Burbank for an afternoon of relaxation, shooting at paper silhouettes of pretend crooks. I hadn't been to a range in more than two years and never to this one near my new home here in the sunny Southland. Vebs had never before indulged this particular aspect of violent human nature, but had expressed an eagerness to try his hand.
I arrived at Vebs' place on Buena Vista about half past one. We chatted, enjoyed coffee and talked a bit about pistol range etiquette before heading over. I brought my own firearm, a Colt Mustang .380 pocket pal. But since it was Vebs' first time and the .380 is a
jumpy little number
, quick to jam and with an irritating habit of locking in safety position during firing, we opted to rent, in addition, a smoother-operating firearm from the range shop. We chose a
Ruger Vaquero .357 magnum
. We chose this for two reasons:
1) I wanted to shoot a "cowboy gun" (boys
will
be boys)
2) The heavy weight and simple action of the Vaquero would let Vebs concentrate on the things like his aim, his stance, proper relaxation and so forth without worrying about how to operate a complicated, idiosyncratic and unpredictable piece of machinery.
A busy indoor firing range is an atmosphere of chaos, especially for the beginner. Spent cartridges from automatics—"brass"—are flying all over the place and the random but persistent BANG! BANGS! tend to make even those with some experience a bit jumpy. But it took Vebs only a few minutes to get used to the atmosphere, and then he took to his Dodge City street canon like a misbehaving hound dog to fleeing cat. He hit his target with each shot on his first cylinder.
Very
good.
Afterward, we motored over to my friend
Chensvold
's bungalow on Princeton Street and kidnapped him for a nosh and a drink or two at a place called
Tantra
in Silver Lake. There we enjoyed a few cocktails and some tasty Indian-style vittles, served by the magnificent Phoebe, a native of the Portobello Road area of London who once spent time in the L.A. County Jail for assaulting police officer, and is now writing a play about it. Damn, but ain't she Our Kind of Girl?
All in all a fine and very
refined
sort of Sunday.
I highly recommend
Firing Line
. I found the sales people personable and professional but firm in a helpful and safety conscious way. An hour for two at Firing Line cost about $65.
I also recommend Tantra, but less for the food -- a tetch too fusiony for my taste -- than for the elegant lounge and Phoebe's provacative panache.
---
Firing Line Indoor Shooting Range
♠ ♠ ♠ ♠
1060 North Lake Street, Burbank
818-954-9810
Tantra
♠ ♠ ♠ (for food) ♥ ♥ ♥ ♥ (for Phoebe)
3705 W. Sunset Blvd., Los Angeles
323-663-8268