Best Valley Coffee Houses: I
In which Travels West explores Priscilla's, the first in a series about the Valley's best coffee houses
---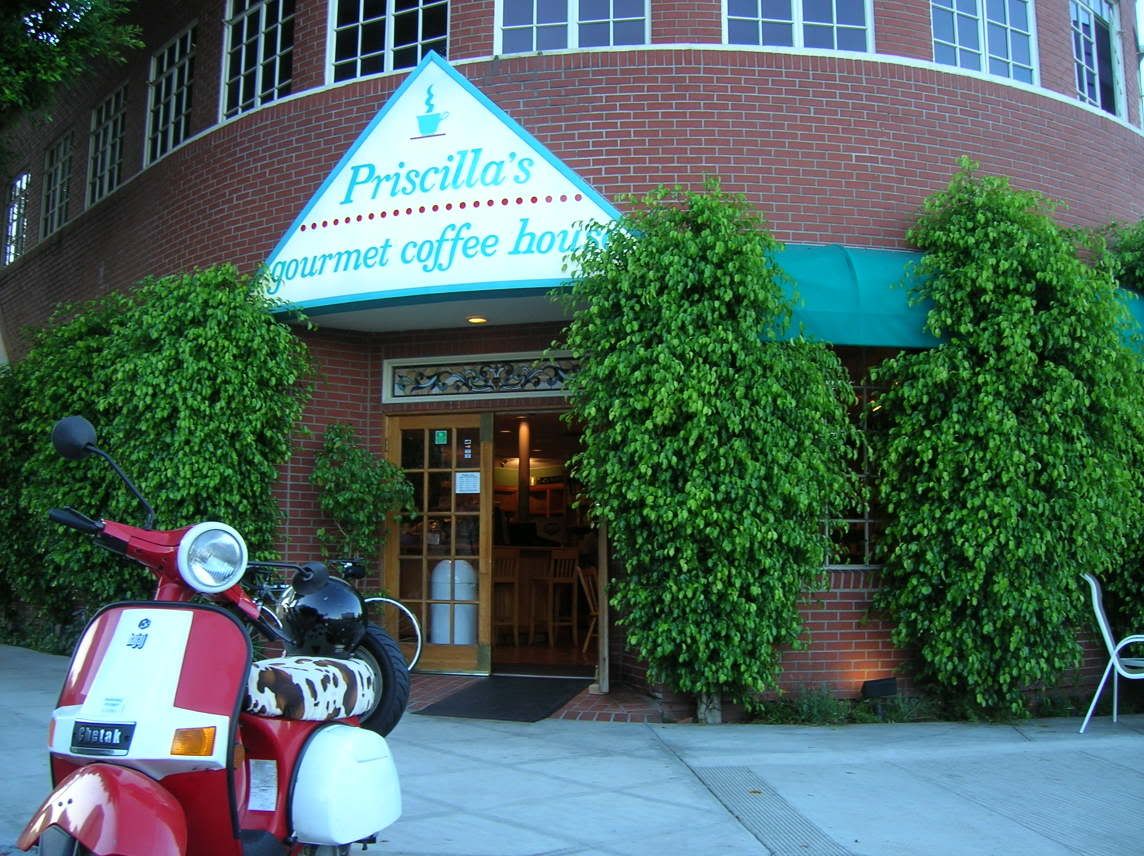 What makes a coffee house a success—a meeting place, a town hall, an artist's or scholar's home away from home—and not just another bare room with an espresso machine? That's what this series will attempt, however furtively, to uncover.
First up is
Priscilla's
on Riverside Drive. Resting in the northern shadow of Mount Hollywood, near the Warner Bros. studios, Priscilla's caters to an eclectic but generally well-heeled ensemble of industry-fringe haute bohemians and Taluca Lake householders. While many have something to do with showbiz or its ancillaries (think "project manager" rather than "producer"; "interface designer" rather than "animator"), as a group they're hard to pin down, and that's a good thing. It shows that Priscilla's is the sort of place where people like to mix. When you walk in through the café's French doors, you never know quite what you're going to hear: A World Cup wager? A political dialogue? A little Celebrity dishing? Some cycling tips, perhaps?
Priscilla's foliage covered brick façade gives it a stately, old school look that's almost deceptive. If it was not 96 degrees Fahrenheit out, you would almost think you were in Cambridge, Mass. Its located right on the flatiron corner where Alameda veers off from Riverside, a patch of relative calm in a tumultuous sea of Hollywood go-getting that allows one to watch the fray with necessarily taking part, which is the sort of vital detail that can make the difference between a place to buy coffee and a coffee house proper.
Staff at Priscilla's trend young, attentive and jovial—almost effervescent. Most importantly, they're forgiving. They make it a pleasure to walk into the place, especially when you're all bleary-eyed in the morning, when all one can hope to do by way of wit is mumble some ill-conceived wisecrack or other.
On the weekends, Priscilla's is also a haven for cyclists, who enjoy a little refreshment after a hot ride while sitting at one of the sidewalk tables.
---
Prescilla's
4150 W Riverside Drive
Burbank
818-843-5707
Rating: ♠ ♠ ♠ 3/4
Pluses:
Beverage quality—Superb coffess and teas made with care.
Staff—Friendly, personable, helpful and engaging people with a sort of young turk/surfer vibe.
Patrons—Interesting crowd from the fringes of "the industry."
Look and feel—Well-lit, classic surroundings, easy on the eyes. Includes a walk-up window for busy associate producers on the run.
Minuses:
Music—Tends to be a little too FM radio top forty for this old fart's taste.
Ergonomics—Patrons are obliged to toast their own bagels using a toaster provided. Not bad thing in itself but the toaster, along with condiments like cream and milk, are badly placed, forcing patrons to fight the crowd that often forms around the register in order to get what they need.
Know of a Valley coffee house you'd like Travels West to review? Leave a comment here or
drop me a line
.