Into the West: A Visit to Tombstone
In which M2 and the Bunnee travel through southern Arizona in search of the True West, where they find a west at once old and new
---
Ten East
We lit out along I-10 East early Saturday morning bound for southern Arizona. We drove hard, stopping only to gas-up and for lunch and a pop in the Columbia River town of Blythe. At the Horny Toad Saloon there, we chatted with some locals, including the former mayor of the town, before crossing over the river and out of California and into the True West (which, strangely, is east of here).
We sped through the chaparral, climbing steadily into the high desert, spotting our first, tall suguaro cacti as we went over a mountain pass near Tonopah. Near Buckeye we hooked a right at state highway 85 and headed south for Gila Bend. We stopped in Gila long enough to take a look at the Space Age Lodge, a motel with a space program, aliens and Star Trek theme. I have no idea why. We hit I-8 and headed east again, making a "L" around south of Phoenix. We hooked up with the I-10 again at Casa Grande and motored on to Tucson, where we got a cheap motel for the night. We arrived just after dark.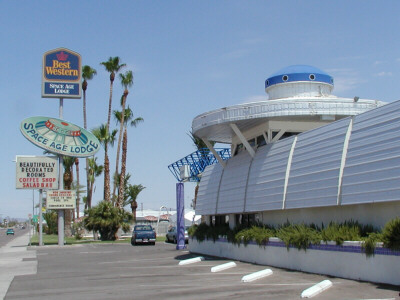 Too Tucson
Tucson's an interesting burg. It's one of those mid-sized college cites, like Austin or Chico, whose core is dominated by students and the kind of slacker flotsom one finds clinging to universities like lichen on a rainforest rock. The action's mostly on 4th Ave., which sports the vintage clothing stores, coffee houses, organic sandwich shops and nightspots that the college crowd requires. We strolled along this avenue a while, entertained by the myriad college-town swells in their various out-of-date subculture uniforms before stopping into the
Surly Wench
pub to wet our whistles. We chatted with the bartender, who looked like a tall Joan Jett, and decided to dine at the
Congress Hotel
.
The Congress is the epicenter of hipster Tucson. Though fairly small as hotels go, it sports no less than three bars -- one of which is a large dance club -- and what is considered one of the best restaurants in town, The
Cup Café
. Tip: don't order The Cup's Herbed Shroom portabello mushroom dish. It gave The Bunnee food poisoning, and she spent most of the night and the next day in the WC or sweating between the sheets, poor thing. She suffered stomach cramps on and off until the end of our trip.
Next day, while The Bunnee was recovering, I went on a hunt for an ATM, a trip that took me, unintentionally, to the outer 'burbs of the town. The outskirts of Tucson are surrounded on two sides by the mountain peaks of the Coronado National Forest and the Saguaro National Park, rocky and picturesque. Nestled between the northern and eastern peaks lie some of the middling tony districts. I was surprised very and pleased to find that most of the houses and yards are built with their desert surroundings in mind. There are few, if any, lawns like one finds in other desert communities, such as Palm Springs. The architecture is low, distinctly Southwest -- adobe-stucco, tile, timber -- and tastefully painted. The yards are simply the sun-blanched earth, suguaro, yucca and chaparral, like the desert itself.
Late Sunday afternoon, The Bunnee started to feel well enough to travel again and we headed south, at last, for Tombstone. From the movies I had thought the country around Tombstone would look something like the the backdrop of a Sergio Leone flick -- dry, gray dust and tumbleweeds. We found, however, cruising over the rolling hills and mesas around Sonoita, that the countryside to be pleasant green and tawny gentle grasslands and scrub. The views are sweeping –- no pesky trees or buildings to get in the way -- and the bluffs and mountains are ruggedly majestic, standing stark against the flawlessly blue Arizona sky.
Tombstone
In my dotage I have become a fan of western movies and Old West history, and I found myself beginning to grow excited as Tombstone came into view, which appeared as an outcrop of low buildings in the lee of a scruffy desert hill as we crested the eastern bank of the San Pedro River and headed south along Arizona State 80 (also, for reasons I'll explain on a moment, called the the Jefferson Davis Memorial Highway). We passed by the Boot Hill graveyard and hit downtown Tombstone a few moments later.
So Where in the World's Tombstone?

While most of the town's central buildings date from the 1880s, few are the originals that Wyatt, Doc and the Clantons and McLauries swaggered through and fought over. Most, but not all, of these were destroyed at one time of another by fire. The central boulevard, Allen St., has been "pedestrianized" -- for lack of a better term -- open only to tourists, re-enactor/gunfighters, horses and the Wells Fargo stage coach, in which you can take a guided tour of the town and see where the town's unforunates were shot, knifed or hanged. If Tombstone is one thing, it's a tourist trap, but it's a delightful one that is full of local color as well as shops brimming with Old West gimcracks, Indian jewelry, pottery, t-shirts and so forth.
We parked the runabout next to a covered wagon on 4th street and sauntered up the boardwalk to
Big Nose Kate's Saloon
, our boots going thump-thump, thump-thump on the wooden planks. Historic Kate's, in the middle of Allen Street, which was once the town's Grand Hotel, now serves as a centerpiece to Tombstone lively saloon culture, with strong drinks, decent enough pub grub and live cowboy and blues music. As I bellied up to the bar and ordered a couple shots of rye, The Bunnee, her innards still a-growling from the food poisoning, stepped off to the ladies room, leaving me with Alphonse the Sock Monkey to tend to. Do you know what it's like to be in a cowboy bar in Tombstone, surrounded by gunslingers -- even if they have blanks in their guns – trying to pretend you don't actually know the sock monkey you are forced to prop up on a barstool? It's not so much fun, I can tell you.
We'd gone into Big Nose Kate's for a refreshing belt after our drive, for sure, but we'd also gone in to ask about where in town we ought to stay. But unable to make conversation with busy barkeep we ambled down the boardwalk to the next watering hole, Vogan's Alley Bar. Legend has it that Vogan's Alley employed the Earps for a while when they first alighted in the town in 1880. In any case, the place is now is a beer bar -- a thing we discovered when we tried to order whiskey -- that now serves sandwiches and burgers. According to the tourist map, Vogan's was an original Tombstone watering saloon that has been restored. Fine. I was in accepting mood and decided on buying whatever the costumed Tombstone locals threw at me at face value. (Besides, when you're a tourist,
who the hell cares
?) We ordered a couple beers and chatted with the lady behind the counter and inquiring about lodgings. She gave us a couple recommendations, but said that the Lariat Motel was her preferred rest stop. "It's just around the corner," she said.
I had read in a guidebook that somewhere in town, "Doc Holliday," or his latter-day doppelganger, gave lessons in faro, a gambling game popular in 1880s and a sort of cross between roulette and blckjack. Having seen "Tombstone" and other films in which the game was featured, I wanted to try my luck, so I asked our hostess about it. She told us that "Doc" held lessons right across the street at the
Crystal Palace saloon.
"But," she said, "Doc's not working today. He got wiped out yesterday it was so busy, I know 'cause I'm his wife."
We were slightly taken aback. "So . . . " I stuttered, "You're . . . Big Nose Kate?"
"People around here usually just call me Kate," she answered. (I rather think that she thought we were judging her nose, which was not over-large.)
It turns out that "Kate" (not her given name) and "Doc" (certainly not his) really are wife and hubby, and that Doc gives faro lessons every day at the Crystal Palace between about 11 A.M. and 4 P.M. Sadly, he'd been given such a hard time on Saturday by patrons that he was taking this Sunday off. The real Doc Holliday would have shot or knifed the offending parties. It's too bad the faux Doc he didn't, for now I feel cheated out of
bucking the tiger's odds
.
Nevermind. We checked into the Lariat, which turned out to be a delightful, old school little motel decorated with wagon wheels and cacti. Each of the rooms is named after an infamous Tombstone character. Naturally, we pulled down Big Nose Kate's room.